When developing a content marketing strategy, two key considerations are differentiation and time. A strategy focused entirely on content creation results in greater differentiation but requires time. To achieve the desired contact frequency with clients and prospects, many financial professionals are complementing content creation with content curation. Moreover, in a 2010 Pew Internet Report, 50% of U.S. news consumers say they rely to some degree on people around them to tell them the news they need to know.
Does marketing with curated content reduce differentiation? Here're three ways financial professionals are creating differentiation with curated content (see chart).

Content Curation Differentiation
1. Your Point of View
What is your analysis and point of view on the discussion or news shared? A well formulated analysis and viewpoint will enrich the content shared, demonstrate your value-add and differentiate you.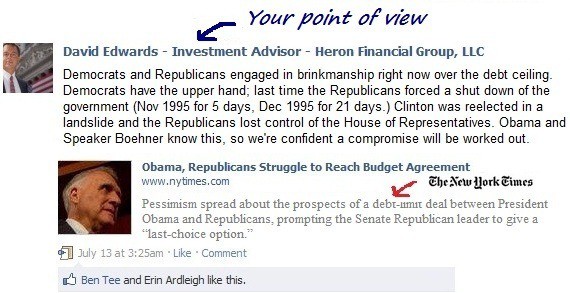 Source: David Edwards Facebook Page
2. The Introduction

Receiving well curated content enables your readers to save time and enjoy content of higher quality and relevance. An effective introduction of that content can further benefit your readers by helping them quickly get the gist and relevance of a piece of content. How you introduce curated content can further differentiate you.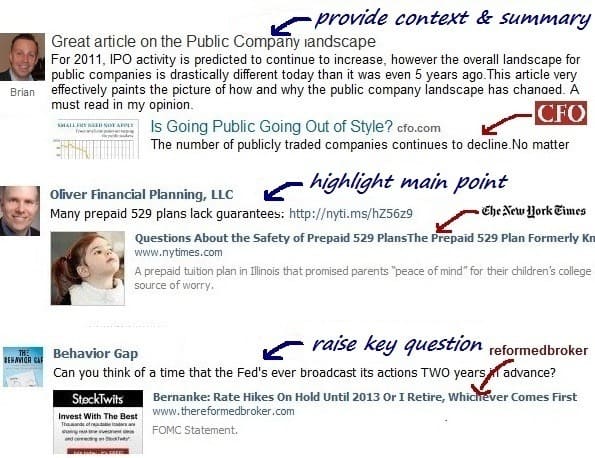 Source: Brian Markey – CPA Leadership Institute Linkedin Open Group, Oliver Financial Planning Facebook Page, Behavior Gap Facebook Page
3. A Unique Content Mix
Who is your target audience and what are their interests? What are your objectives and interests? By setting clear goals and content selection criteria, you can create a content mix over time that is unique to you.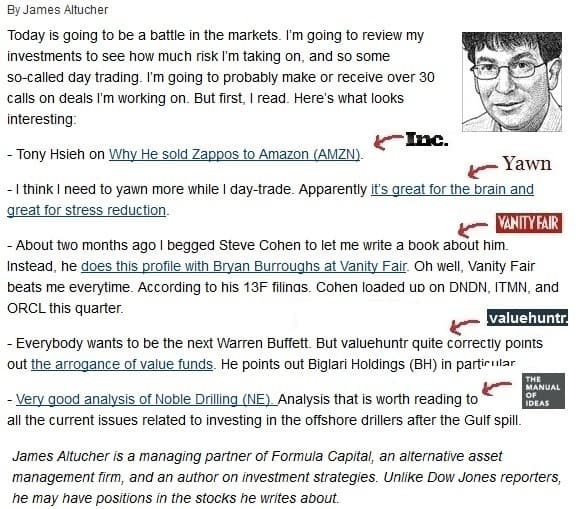 Source: James Altucher on "Financial Adviser" WSJ Blog (June 7 2010)

How are you creating differentiation with curated content?
– by InvestmentPal