You do not need to be "CNN Money" to be ranked on the first page of Google for a finance-related search, nor "Zillow" for a real estate query. The right keywords, coupled with off-page & on-page SEO, can land you on the first pages of search engines. Two key considerations when selecting SEO keywords are search volume and competition from other sites. Popular keywords with high volume often come with strong competition (eg "insurance"). One strategy is to focus on lower competition "long tail" keywords where there are higher chances of ranking well on search engines (eg "what is personal liability insurance"). While the search volume of a single long tail keyword may not be very high, in aggregate long tail keywords make up the majority of all search queries. Here're 20 SEO-savvy professionals in finance, insurance, accounting & real estate, and search terms which got them on the first page of Google (as of July 14 2012).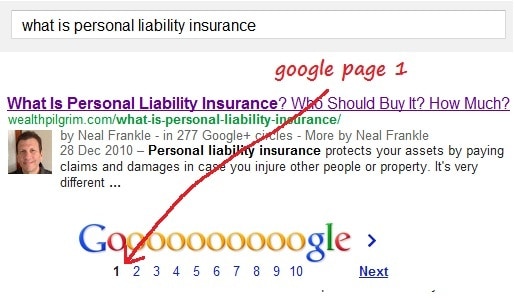 Google Page One Professionals & their Search Terms
Financial Planning
Brock & Associates, Financial Planning > "selecting a financial planner"
brockfc.com/11-keys-to-selecting-a-financial-planner.html
Ken Faulkenberry, Arbor Investment Planner > "advantages of roth ira"
blog.arborinvestmentplanner.com/2012/03/roth-ira-movement-whats-so-great-about-the-roth-ira
Fern Alix LaRocca, CFP > "build wealth"
wholeheartedway.com/build-wealth-today
David & John Compton, First Security Financial > "401k tax deduction"
firstsecurityfinancialshow.com/blog/bid/160902/Your-401k-and-Why-Your-Tax-Deduction-Might-Be-Threatened
Jeff Rose, Alliance Wealth Management > "average retirement savings"
goodfinancialcents.com/average-retirement-savings-how-does-your-savings-stack-up
Insurance
Richard O'Boyle, Schaefer Enterprises > "life insurance planning"
retirementandinsurance.blogspot.sg/2011/01/life-insurance-basics.html
Neal Frankle, Wealth Resources Group > "what is personal liability insurance"
wealthpilgrim.com/what-is-personal-liability-insurance
Glenn Cooke, Life Insurance Canada > "how much life insurance do i need"
canadiancapitalist.com/how-much-life-insurance-do-i-need
Dennis Volz, State Farm > "how much is home insurance a year"
dennis-insurance.blogspot.sg/2008/02/how-much-homeowners-insurance-do-you.html
Jay & Louise Norris, Insurance Shoppers > "2012 hsa contribution limits"
healthinsurancecolorado.net/blog1/2011/05/18/irs-announces-2012-hsa-contribution-limits
Accounting & Tax
Sandy Tunwell, Accountrain > "debit or credit"
accountrain.com/debit_credit.html
Blue Willow Bookkeeping > "capitalize or expense"
bluewillowbookkeeping.com/faq/repairs-when-do-you-capitalize-when-do-you-expense
William Brighenti, CPA Connecticut > "quickbooks chart of accounts"
cpa-connecticut.com/quickbooks-chart-of-accounts.html
Bader Martin, CPAs & Business Advisors > "federal tax deductions 2012″
badermartin.com/blog/wondering-about-the-new-federal-tax-deductions-and-limits-for-2012
Jim Yih, Think Box > "how to minimize taxes"
retirehappyblog.ca/how-to-minimize-tax-on-the-estate
Real estate & mortgage
Realty Austin > "where to live in Austin"
realtyaustin.com/blog/austin-traffic-commute-times-where-to-live-to-get-best-commute-times.html
Craig Blackmon, WaLaw Realty > "buy a house in seattle"
walawrealty.com/2011/08/is-now-a-good-time-to-buy-not-generally-speaking
Joe Manausa, Century 21 Manausa and Associates > " sell a home"
manausa.com/special/sell-a-home
Lucid Realty > "chicago real estate prices"
blog.lucidrealty.com/chicago_real_estate_statistics
Jay Calafiore, Mortgage Architects > "how a mortgage works"
mortgageblogger.ca/how-a-mortgage-works
Are you choosing the right SEO keywords for your posts?
– by InvestmentPal