Are you using your Linkedin updates to engage business associates, clients and prospects with curated content? Linkedin's update feature enables you to share a link to an online article, and your commentary on the article, with people who are connected to you. In addition to becoming a curator of quality content to your network, you add value to by providing your unique perspective on a piece of content, highlighting its key points from an article or asking a relevant question. What content sources are professionals using to find quality and relevant articles to share with their networks via their Linkedin updates? These content sources include:
News sites with daily content for a broad audience
Magazine sites with a focus on certain demographics
Blog sites which offers viewpoints of individual contributors
Industry sites with a focus on topics in a specific industry
Youtube which provides video content such as explainers, reports, and interviews
Your company blog site with contributions from your colleagues
Your own blog site
In a previous post, we showed examples of content curation on Twitter and Facebook. In this post, we select 7 examples of curated content from the sources, shared on Linkedin updates by professionals in financial planning, insurance, accounting and real estate.
1. News sites
Kirk Bostrom, Portfolio Manager > CNBC News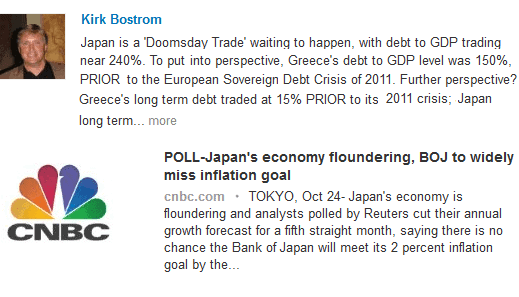 2. Magazine sites
Gina Soldano, Realtor > Businessweek
3. Blogs
Monica Weissmann, Financial Advisor > WSJ blog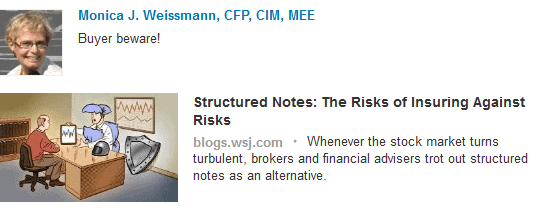 4. Industry sites
Chris Peden, Certified Public Accountant > Quickbooks site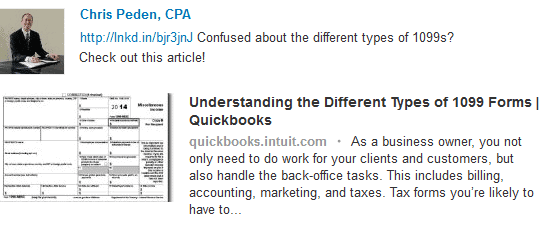 5. Youtube
Renee Williams, Insurance Agent > Liberty Mutual's Youtube channel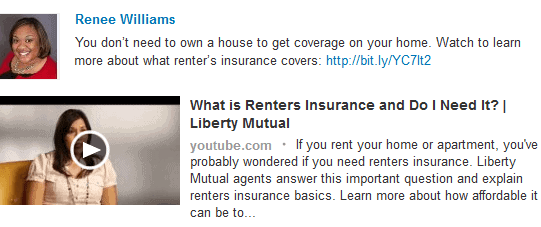 6. Your firm's blog
Steven Gimmarro, Financial Planner > One America site
Linda Menes, Insurance Agent > Mutual of Omaha Blog

7. Your own blog
Aaron Skloff, Registered Investment Advisor > Skloff.com/Blog
– By InvestmentPal