Last year, this blog published an article on the "social media impact on revenue" – presenting 8 statistics from various sources which linked social media activity to client acquisition and revenue growth in financial services. What are the stories, who are the people behind those statistics? Here're 10 social media success stories of professionals in finance, accounting, insurance & real estate who have won new clients via Facebook, Twitter and Linkedin.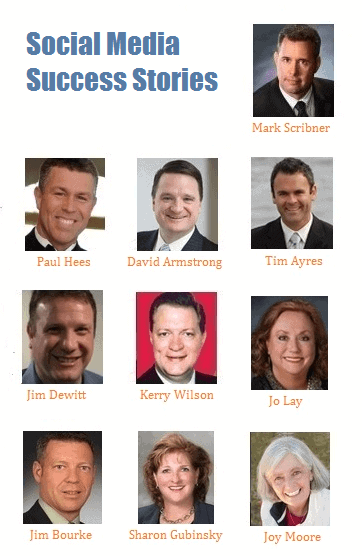 Social Media Success Stories
1. Paul Hees (financial advisor) wins two IRA accounts after learning about a prospect's job switch via Linkedin
>> "Social media tricks to help advisers get new clients" by Jennifer Cummings, Reuters
2. David Armstrong (wealth manager) wins a $3M account from a prospect who followed his firm's Facebook Page for 8 months
>> "A Look Inside LPL Financial's Social Media Strategy" by Mike Byrnes, Financial-Planning.com
3. Mark Scribner (wealth advisor) wins a $2.6M 401K rollover account from an acquaintance whom he noticed had checked out his Linkedin profile
>> "For This Financial Adviser, Tweets Are Good Business" by Jennifer Cummings, WSJ Blogs
4. Jim Bourke's (CPA) knowledge of prospects' passion for car racing from their Linkedin updates helps win a new client in 'unique' industry
>> "Social Media: From a CPA Firm's Perspective", Interview by Bob Scott, Editor, The Progressive Accountant on Youtube (see 6 min 18 s – 8 min 22 s )
5. Sharon Gubinsky (CPA) wins a significant audit client resulting from a referral from another CPA who follows her on Twitter
>> "CPA stories on the Social Front" by Bill Sheridian, Maryland Association of CPAs on Youtube (see 3 min 6 s – 3 min 44 s)
6. Jim DeWitt (insurance professional) wins 3 clients from a single story he shared on Facebook
>> "How an insurance agency generates business using Facebook" by Michael Reynolds
7. Kerry Wilson (insurance professional) wins a new policy resulting from a "personal roadside assistance" photo posted on his Facebook page by a client's sister.
>> "Kerry Wilson Q&A" by Jeff Bair, Foremost Insurance Group
8. Tim Ayres (realtor) wins 3 clients resulting from "a single tweet".
>> "Tim Ayres Interview" by Chris Burdge, bWEST Interactive Blog
9. Joy Moore (realtor) closes a transaction for her daughter's friend after joining Facebook and connecting not only with friends & family but also with her daughter's friends.
>> "A Facebook Real Estate Success Story" by Stephanie Pfeffer, The Real Estate Beat
10. Jo Lay (realtor) closes 2 outgoing referrals after learning about the passing of a friend's aunt from Facebook and a need to sell 2 homes
>> "Jo Lay Interview" by Sarah Poston, Coldwell Banker King Thompson on Youtube (see 0 min 22 s – 1 min 17 s)
Are your social media efforts starting to yield results? Please share your success story.
– by InvestmentPal